Bathtubs, Showers & Sinks Refinishing and Repair - Wilmington NC
Bathtubs, Showers, Sinks and More
Let the technicians at Coastal Carolina Surface Repair breathe new life into your old, worn, or damaged tubs, showers, sinks, and more, and transform your bathrooms.
Bathtub and Shower Repair
You Don't Have to Replace Your Tubs and Showers...You Can Recolor and Repair
At Coastal Carolina Surface Repair, we can change the color of your tub. We can also remove stains, fix chips, scratches, burns and cracks on your tub or shower's surface.  
Harvest Gold, Chocolate Brown, and Avocado Green are just three of the tub colors that used to get installed in homes. Obviously those trends are gone now, but maybe your bathtub isn't.  To make things even worse, you have wall tile to match the color of the tub. You would like a more updated look with a more modern color pallet.  The problem is that when you think of the cost, debris, and inconvenience of ripping out your existing tub, you aren't sure it's worth it. The good news is, you don't have to replace it.
Your Bathtubs and Showers Will Look Great!
Our Tub and Shower Services Include:
Chip and Crack Repair
Staining Issues
Tub Reglazing (changing the color)
Recoating
Refinishing
Slip Resistant Coatings
Spongy Floor Reinforcement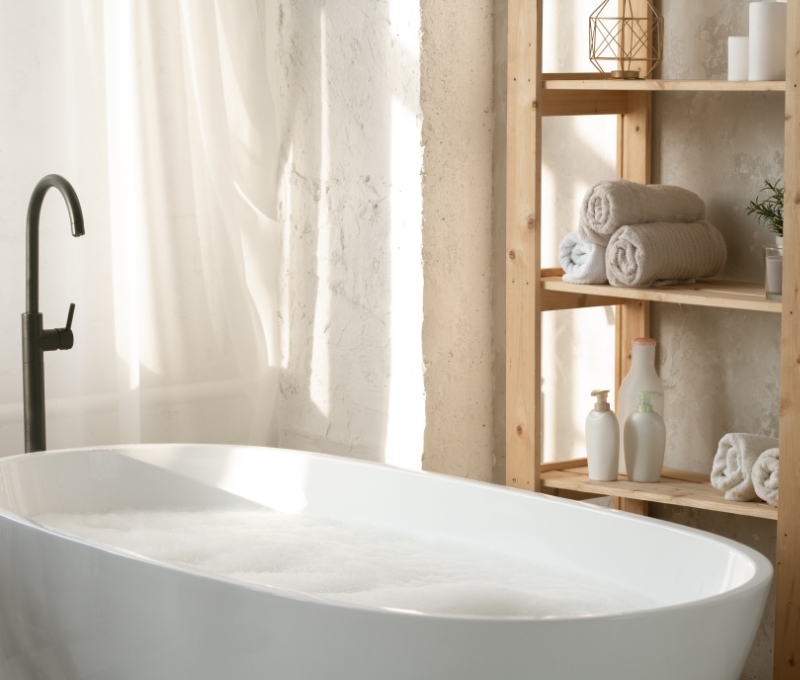 Bathrooms are notoriously wet environments. Sometimes water can seep in-between the bathtub and the sub-floor. This moisture can weaken the sub-floor and it may become bouncy or spongy. Coastal Carolina Surface Repair has a proven system and trained technicians to combat this problem without ripping up your tub or floors. 
Sinks, like just about everything else can be damaged by wear and tear. They can develop pits, scratches, cracks and chips. Don't hire a plumber to rip out and throw away your old sink.  Coastal Carolina Surface Repair has proven techniques to remove scratches, fix chips and repair other damage as well.  
Our Sink Services Include:
We repair most chips, pits and scratches in the following types of sinks:
Porcelain
Stainless Steel
Solid Surface
Cultured Marble
We're here to help. Contact us.
Don't just live with that old tub, tile and sink. Let Coastal Carolina Surface Repair show you how we can give you get the look and feel of new without demolition and replacement. Give us a call at (910) 408-5121 or use our CONTACT FORM to send us a message.